Hello my lovely readers...iiit's Tuesday so that means it is time for another Top Ten Tuesday! Today's title is 'Top 10 Books that Celebrate Diversity', and there seems to be a lot of focus amongst other bloggers, particularly those who read a lot of YA, on LGBTQ books, which is great! Unfortunately, I have not read many books with LGBTQ characters, so this post will take a slightly different angle. I have chosen to include books that not only celebrate diversity, but also highlight the struggles that others encounter, which people who are considered 'normal' may not understand, as I think that is equally as important.
So let's get started!
10) The Colour Purple - Alice Walker
I couldn't bear to put this book any higher because it is just such a harrowing read, and under a title of 'celebrating diversity', it just didn't feel right. This book is set in the deep American South, and centres around the struggles of a young woman who was abused by her father and gets married to someone who isn't much nicer! Unfortunately, it seems that this wasn't a rare occurrence in that society, and the book is written very well...just don't expect it to be uplifting!
9) Elizabeth is Missing - Emma Healey
Maud suffers from Alzheimer's. I didn't rate this book very highly as it was written very erratically, but actually, it does serve as a very strong testament as to how confusing the life of a person suffering with this condition must be! I really struggled to follow the thread of the story! Nevertheless, being the first book I had read with a character like this, it was definitely an eye-opener!
8) My Name Is...? - Alastair Campbell
This story is about a girl called Hannah, who suffers with alcoholism. Cor, these first 3 have been depressing, right?! I promise I'll cheer it up as we get higher up the list. Again, this book was such an eye-opener for me as it describes the effect that Hannah's condition has on her mother too, and it's really powerful!
7) The Bell Jar - Sylvia Plath
Okay I know I said I would cheer this up...I promise I will after this one! For those who follow my blog, you may remember my
recent review of this book
, and remember how strong the emotions were that it provoked within me. It made me so angry to see the treatment of a girl in the 1960s with depression, and how decisions were always made over her head. I am glad that we live in a society where this is slowly changing, but unfortunately it is not changing quick enough, and this book serves as an extremely powerful, and emotive testament to that.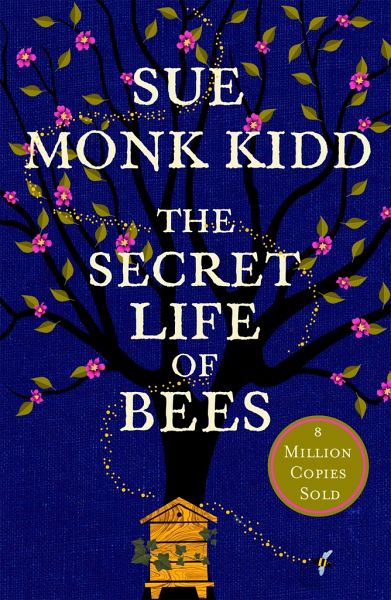 6) The Secret Life of Bees - Sue Monk Kidd
Yay, a much cheerier note! Set in South Carolina, this is the story of Lily's search for her mother's history, when all she has to go on is a picture of the Black Madonna with a place name on the back. She finds a trio of beekeepers who agree to look after her, and teach her the way they worship Black Madonna. I found this absolutely fascinating, as I had never encountered this religion/belief before, so I think it is a great celebration of more obscure cultures, and I really enjoyed it!
5) Me Before You - Jojo Moyes
People may think that this is a classic contemporary romance, but come on, this is Moyes: it is so much more than that! Lou meets Will, who has suffered a motorcycle accident which has left him in a wheelchair. This is one of the few books I have read that involves a disabled person, and it is such a beautiful story, and Will is such a wonderful character - definitely a must-read!
4) Henry's Demons - Patrick and Henry Cockburn
This is the only non-fiction addition to this list! This is the biography of Henry's schizophrenia, told from both his point of view, and that of his father. I read this book a long time ago but it has always stood out to me as it is such an open, honest, and in some places entertaining account of such a life-changing condition. Not only does it affect Henry, but his whole family's lives are turned upside down by his 'demons', and once again, it is a complete eye-opener to a condition that is so misunderstood.
3) The Rosie Project/The Rosie Effect - Graeme Simsion
I love Don Tillman! He is such an endearing character, who seems to suffer Asperger's syndrome. However despite this, he is the cutest character I can think of, and I love all his quirks and how intelligent he is, and just everything! He is a fabulous celebration of how amazing those with Autistic Spectrum disorders can be! :)
2) House Rules - Jodi Picoult
Along the same theme, this is one of my favourite Jodi Picoult books! Jacob had Asperger's syndrome, and one day his behaviours make him look very suspicious when there is a murder case in the town! This fantastic story tells of how his mother fights to get his voice heard - why should his voice be any less heard? An absolutely amazing read!
1) The Boy in the Striped Pyjamas - John Boyne
Celebrating diversity is about seeing through any prejudice, right? And who sees through prejudice better than young children? Their youthful innocence allows them to become friends with whoever they like, irrespective of any prejudice or misconception. That is why The Boy in the Striped Pyjamas tops my list, because it is the perfect example of an unlikely friendship, that would not have occurred had prejudice played a part. Unfortunately it doesn't have the happy ending it should, but nevertheless it will always be one of my favourite stories and is thus very deserving of top spot!
Thank you for reading my latest Top Ten Tuesday! What do you think? I have tried to include as many different examples of diversity as I could. What books really celebrate/highlight diversity for you? I'd love to hear about them in the comments below :)